ATP Turbo's New Evo Stock Location Bolt On Turbo Hotness!
Let the record breaking commence!
Following the successful launch of the GT30R and GT35R series bolt-on turbos for the Subaru WRX and STI in the past 24 months, ATP decided to revisit the the turbo lineup for the Lancer Evolution 8 and 9.
The original ATP stealth kit was a sort of "hybrid" solution which allowed the user to incorporate a single scroll GT30R or GT35R turbo onto the factory Evo 8/9 manifold without having to upgrade to a "custom exhaust manifold."  While the solution was elegant by design, it still required a custom downpipe, custom O2 housing, an external wastegate, and a few other bits which drove up the cost of the overall kit.  More parts also meant more installation time as well.  In addition, ATP has always struggled with the fact that this kit, like most other single scroll turbo kits, suffered in the spool up department when compared to the factory's twin-scroll configuration.
The twin-scroll design of the factory turbo system takes two paired sets of totally divided exhaust pulse streams (each pulse stream is comprised of 2 of the engine's 4 cylinders) and keeps the pulses separate all the way from the cylinder head exhaust ports, on through the turbine scroll, and into the turbine wheel.    The paired pulse design of the twinscroll allows the exhaust energy to be used more efficiently and with much less turbulence.
The result is up to a 1000 rpm earlier boost response when compared to a single scroll turbine housing driving the same size turbo.  While our original stealth kits have more often than not produced countless 500-600WHP dynosheets, we hear it from customers over and over as with many other manufacturers of single scroll turbo kits......."I love the power, but I want less lag!."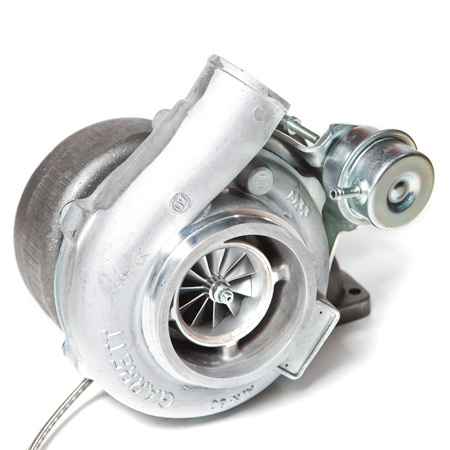 GTX version shown with 100mm high flow ported shroud inlet option 100% bolt-on stock location turbos for your Evo 4 through Evo 9 featuring:
Power ranges from 450HP to 700HP
Internally wastegated twin-scroll design
High pressure

 

actuator for stable boost control
Large A/R turbine housing for reduced backpressure and more power
High efficiency compressor housing with ported shrouds
Garrett dual ball bearing for boost now!
Fits, stock exhaust manifold, downpipe, and O2 housing, exhaust, intake
100% stealth appearance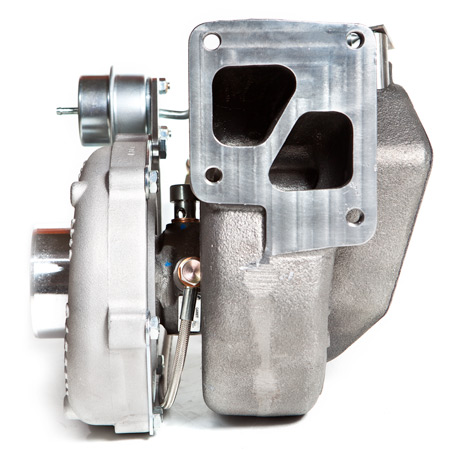 Today's Evo drivers want MORE and we are doing it!
The stock Evo 8 turbo is a great 350 HP turbocharger. The area under the curve is excellent, but the turbo is too small so it runs out of steam quickly after the midrange. Turn up the boost pressure beyond 20 psi and watch the powerband fall into a nosedive quickly as the turbo goes into overspin mode. The 2011 Evo driver now demands 500HP-600HP.  This is expected to be an easy to install package.  The look of the stock engine bay should be retained and most importantly, all of this WITHOUT the lag.
Seven years after the initial release of our original stealth kit back in 2003 when the Lancer Evolution was first introduced stateside, we are happy to announce that this is available and it's available for 2011!
How about nearly 500WHP on Garrett's GTX3071R on a nearly bone stock 2.0L engine with an untouched factory exhaust manifold, intake manifold, t-body and cylinder head ports?
How about 600WHP on a GTX3582R?
In addition to the standard and proven GT series GT3071R (450HP), GT3076R (500HP), and GT35R (600HP),  in 2010, Garrett launched the GTX series as a part of their lineup.  The GTX series turbos feature the latest generation of compressor aerodynamics with the highest efficiency/flow than anything else out there.  These unique 11 blade billet wheels are setting new standards for turbo efficiency.  We are making these all available for your Evo 8/9 as well!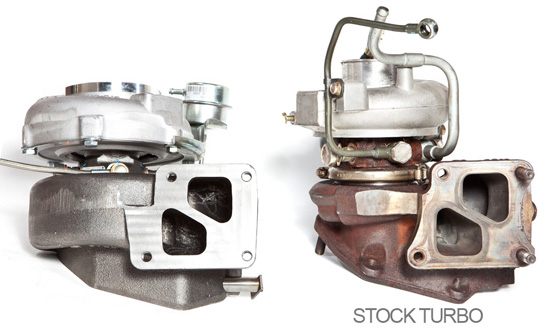 GT3071R Dyno Results - Order Yours Today!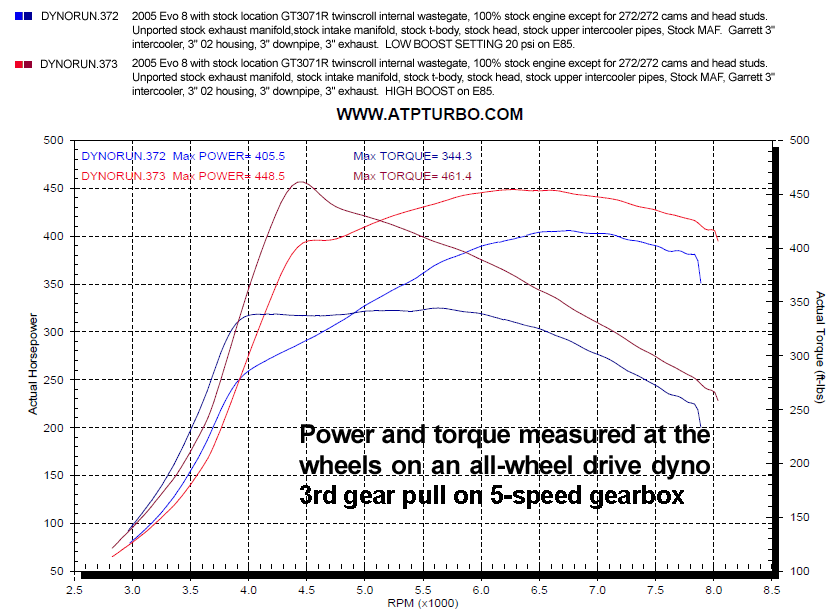 GT3076R Dyno Results - Order Yours Today!
GT3582R Dyno Results - Order Yours Today!