MAPerformance Catback Exhaust | 2013-2023 Subaru BRZ / Toyota GR86 (BRZ86-2G-CBE)
MAPerformance
SKU:
Give us a call to get the best prices and parts for your build. Or, just call us with a cool racing story...either way we're here.
Email - sales@maperformance.com
Phone 1-888-627-3736
FREE Delivery Expected by ,

when ordered within hrs and mins
Include Adapter for Stock Downpipe?
Phone
Contact us for availability!
2013+ BRZ / GR86 / FR-S Catback Exhaust System by MAPerformance
Our engineering and fabrication team at Modern Automotive Performance is proud to present the MAP Catback Exhaust system for the Subaru BRZ / Toyota GR86.
Enhance your driving experience with a beautiful thrilling exhaust tone that brings out the most enjoyment and excitement from your enthusiast focused vehicle!
This exhaust system is highly durable, and designed using 3" mandrel bent tubing constructed from quality T304 Stainless Steel. It features 3/8" laser-cut flanges, and is TIG-welded to perfection. The 3" inlet dual 2.5" outlets muffler retains the factory aerodynamics of the underside of the vehicle, where other exhausts turn your rear bumper into a parachute that increases drag! Designed with ease of installation in mind, this exhaust will bring out a deeper and more aggressive tone from your vehicle.
They also look as good as they sound! The stylish 4.5" dual exhaust tips are the icing on the cake, and are available in standard stainless steel or burnt blue. This exhaust includes 3/8" exhaust hangers to fit the factory exhaust hanger locations.
Please Note: An adapter is required for fitment of our catback to the stock downpipe. If you would like one included with your order, please select the appropriate option before adding to cart
Features
3" 304SS Construction
Dual 4.5" Tips
In house TIG welded
Benefits
Ease of Installation
Excellent Exhaust Tone
Minimal to No Drone!
Built with ground clearance in mind for lowered cars
Applications
2013-2023 Subaru BRZ
2013-2023 Toyota GT86/GR86
2013-2016 Scion FR-S
What's In The Box?
1 - MAP BRZ/GR86 Front Pipe
1 - MAP BRZ/GR86 Mid Pipe
1 - MAP BRZ/GR86 Axleback
2 - 4.5" Exhaust Tips (options available)
1 - 3" V-Band Clamp
1 - 3" Exhaust Coupler
1 - Anti-seize Packet
References
Warranty
MAPerformance Limited Lifetime Warranty
Great exhaust
The exhaust sounds great. Solidly built. Just enough deep ripping sound that will not offend the neighbors yet makes the car more fun to drive.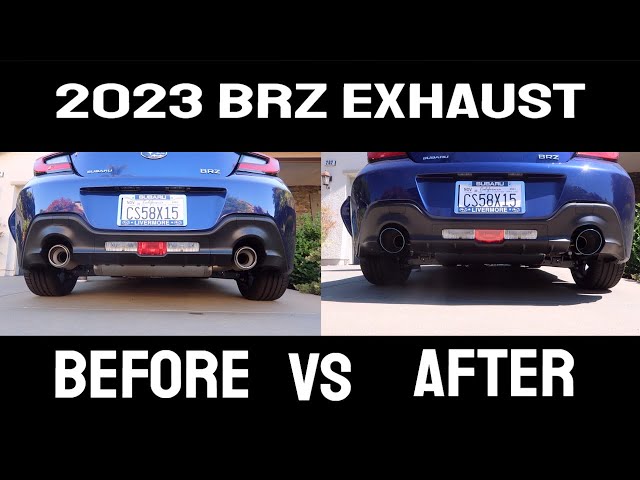 Great Sound with no drone! Fast shipping!
I initially was worried that the exhaust would be a little to quiet. But it adds more then enough noise with no drone. Since I take lots of calls in the car. I had an issue with the stock clamps where they ended up braking on me. I contacted a sales rep from MAP and they priority shipped me new ones for free. Great company and cant wait to keep buying new parts for my GR86!
Awesome purchase
In love with this exhaust. I have a 2022 brz and this exhaust just sounds amazing. the cold start is beautiful and the install was pretty easy. I do recommend getting different clamps from autozone that would be easier to manually install for the exhaust tips. otherwise, the process was smooth!
GR86 Catback Exhaust
First off, the quality is top notch. Secondly, it got here within a week which was way faster than I expected. Thirdly, it sounds even better in person than any video I've heard. I really love this exhaust and the fact that it has 3 inch piping makes it primed for forced induction. Install was straight forward. I give it 5 stars
Solid Sound
This exhaust does the job, and it does it well. Although I have seen many videos or complaints about parts breaking during assembly, I had no issues. Everything went together easily. I did install with stock headers and over pipe, so I'm not too sure how much louder it will get. It produces a crisp tone with almost zero drone. The best thing about the sound it brings the perfection of the 2.4 boxer engine out without trying to be obnoxious or sound like another engine. I have had this on for three weeks and I am still trying to find issues with it. Great product!