Top 5 Exhausts For Your Civic Type R
TOP EXHAUSTS FOR YOUR
fk8 civic type r
Posted at 11:00 - 17th September - Tyler Mumm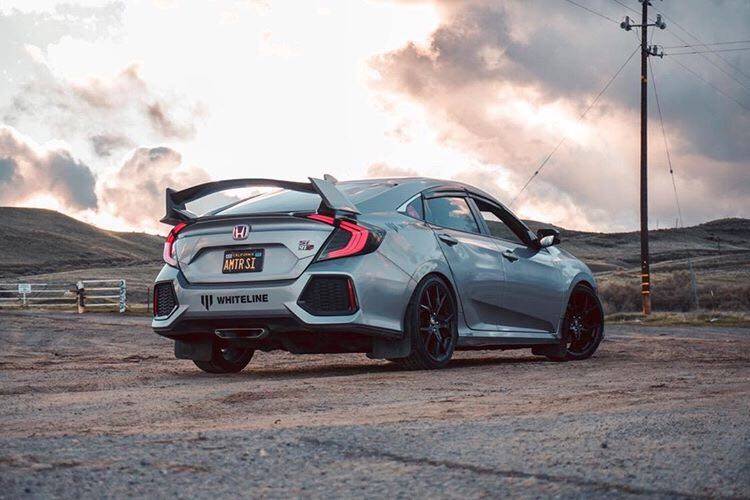 Now you've seen us talk about various cars. Anything from Evo to Subaru, Gtr, to the FRZ/BRZ and the even new a90 supra.

today we are happy to bring to you the top 5 exhausts for the new fk8 honda civic type r.
this car already has quite the history on the streets and more significantly, the track. we've come up with a list that not only gives your car the sound it deserves, but also the performance that needs to accompany such a fine piece of machinery.

Stick around with this list and you'll see which one is our top pick!
1. HKS Hi-Power Spec-L Cat-Back Exhaust
The HKS Hi-Power Spec-L Cat-back Exhaust for the new 2017+ Civic Type R designed to as an OEM plus upgrade to strike the perfect balance of weight reduction and power gain while still being affordable.

This exhaust system is calculated to handle 400+HP builds, so this exhaust will not hold you back. If anything, it will encourage you to keep Building! Paired with some bad ass carbon fiber tips. this stylish exhaust system sounds great and not too loud over the stock type R sound.

-2.5" In to 2" out
---
2. Invidia Gemini R400 Titanium Tip Exhaust
The triple tip Invidia Gemini R400 exhaust system features a single layer style tip exhaust for a robust and aggressive look. This model features a titanium 4-inch burn tips for that race inspired look. The R400 for the 2017+ Honda Civic Type R features independent muffler resonators for each tip to reduce weight and provide a deeper exhaust tone.
In order to create a true 3-inch cat-back, Invidia decided to include the down-pipe/mid-pipe/front-pipe with this system. Meaning this system connects all the way up to the primary down-pipe making this a true 3-inch exhaust system!

-full 3" exhaust
---
3. GReddy Supreme SP Exhaust System
The Honda Civic Type R is a special vehicle that deserves a premium GReddy exhaust. Keeping with the SP tradition of a street performance exhaust, careful attention to both sound and performance was considered in the design of this system.
The free flowing straight-though exhaust on the CTR's turbocharged K20C1 engine netted just 88dba on our standardized revving sound test with an amazing 16whp increase on our chassis dyno. Large diameter, stainless-steel, 3" mandrel-bent piping is tucked up in the FK8 Civic Type R chassis to a larger specially shaped SP oval muffler, to maximize flow and control the sound quality. Exhaust flow exits through dual 2.5" ports on the muffler canister to carefully positioned, high polished exhaust pipes and dual-wall Tips.
The Civic Type R's rear diffuser exhaust opening is elegantly completed with a special GReddy Supreme SP badge, between the dual 4.5" SP tips. Like all GReddy Supreme SP systems, the fully hand-welded 304 Stainless-Steel exhausts carry a Limited Lifetime Warranty.
---
4. Tomei Expreme Ti Full Titanium Exhaust "Type-D"
Full titanium construction makes this exhaust light, strong and durable. Features a 115mm (4.53") burned blue titanium tip. The mid section is connected using springs and clamps rather than conventional flanges.
The flexibility of the spring helps prevent cracks from vibrations. While the springs provide a secure connection, the clamp bands and slits on the pipe ends offer additional reassurance when installing.
The silencer casing is made with exhaust efficiency in mind. Each unit is embossed with our logo as well as polished and heat treated. The all titanium inner tube has perforations to achieve an open area ratio of 32.6%. Long fiber glass wool is the packing material of choice, it is much more resilient to wear and prolonged high temperature conditions.
Includes all necessary components for installation including new bolts and nuts. Bolt Smooth Paste is also included to help prevent the bolts from becoming seized under heat.
---
5. AWE Tuning Touring Edition Exhaust
Ahh yes. you have now reached the last exhaust on our list, which also happens to be our #1 pick overall.

At the intersection of sophistication and aggression lies the Touring Edition Exhaust. A full 3" T304L stainless steel downpipe-back configuration, the Touring Edition Exhaust is the perfect dose of steel for drivers looking for straight-pipe performance, a deep, sophisticated exhaust note, and zero drone at highway speeds.
Featuring an integrated front pipe, bespoke midpipe resonator, and AWE's patented drone-canceling solution, 180 Technology®, the Touring Edition delivers a full-bodied, rasp-free K20 soundtrack unachieved by any of its peers. Under boost and heavy throttle, the Touring Edition screams. At highway speeds, drone-free within the cabin -- the best of both worlds. Perfectly engineered and packaged for the FK8 Civic Type R, all backed by AWE No CEL and Perfect Fitment Guarantees.
The Touring and Track Edition Exhausts feature a modular tip design that allows drivers the choice of running double or triple 4.5" slash-cut tips via our bespoke stamped tip merges. With such interchangeability, a dual tip configuration can be converted into a tri-tip configuration (and vice-versa) within minutes via an AWE Tip Conversion Kit.